Genesis 42:17-29
17 And he put them all together into ward three days.18 And Joseph said unto them the third day, This do, and live; for I fear God:19 If ye be true men, let one of your brethren be bound in the house of your prison: go ye, carry corn for the famine of your houses:20 But bring your youngest brother unto me; so shall your words be verified, and ye shall not die. And they did so.21 And they said one to another, We are verily guilty concerning our brother, in that we saw the anguish of his soul, when he besought us, and we would not hear; therefore is this distress come upon us.22 And Reuben answered them, saying, Spake I not unto you, saying, Do not sin against the child; and ye would not hear? therefore, behold, also his blood is required.23 And they knew not that Joseph understood them; for he spake unto them by an interpreter.24 And he turned himself about from them, and wept; and returned to them again, and communed with them, and took from them Simeon, and bound him before their eyes.25 Then Joseph commanded to fill their sacks with corn, and to restore every man's money into his sack, and to give them provision for the way: and thus did he unto them.26 And they laded their asses with the corn, and departed thence.27 And as one of them opened his sack to give his ass provender in the inn, he espied his money; for, behold, it was in his sack's mouth.28 And he said unto his brethren, My money is restored; and, lo, it is even in my sack: and their heart failed them, and they were afraid, saying one to another, What is this that God hath done unto us?29 And they came unto Jacob their father unto the land of Canaan, and told him all that befell unto them; saying,
Download Holy Bible King James (KJV) for Android
The God's word is at the palm of your hand, so you can easily read the whole Bible whenever you want and wherever you want without the need to be connected to any mobile data or wireless network.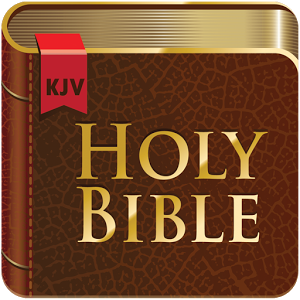 Download now